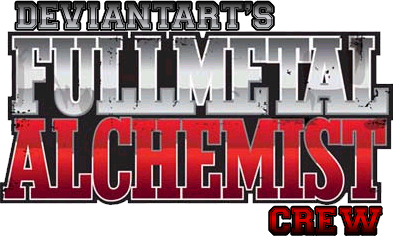 Okay, so I've been seeing all these different crews popping up everywhere lately. I was wondering if there was an FMA crew yet, I checked and I didn't see one. o.O And.. well... yeah. I'm surprised. So.... I thought I'd make one.

Rules:
If you want to join, just leave a comment in this journal *or* send me a note with the name of the character you want to be. The character must not already be taken. If there is a character that you want to be that isn't on the list, just tell me in the comment or note. =3 (I know for a fact I forgot, like, a billion characters.

)
Also, If you are in the crew, please paste the following (or something very similar) in your journal or signature, but without the spaces
before
the "a"'s:
< a href="
[link]
">I'm <insert character's name here> in the Fullmetal Alchemist crew!</ a>
---------------------------------------------------
I'll put this in some kind of order eventually.
Characters:

as Edward Elric

as Alphonse Elric

as Trisha Elric

as Hoenheim Elric

as Winry Rockbell

as Pinako Rockbell

as Roy Mustang

as Riza Hawkeye

as Maes Hughes

as Alex Louis Armstrong

as Jean Havoc

as Watteau Falman

as Haymans Breda

as Kain Fuery

as Maria Ross
Denny Broche
Frank Archer

as Scar

as Lust

as Gluttony

as Envy

as Greed

as Wrath

as Pride/Fuhrer King Bradley

as Sloth

as Rose

as Cornello
Cray

as Clause
Majhal
Bald

as Shou Tucker

as Nina Tucker

as Alexander

as Barry the Chopper

as The Slicer (Older Brother)

as The Slicer (Younger Brother)

as Yoki

as Lyra
Halling

as Clara/Psiren

as Dante

as Russel Tringham

as Fletcher Tringham
Nash Tringham

as Scieszka

as Izumi
Sig

as Den

as Black Hayate

as Tim Marcoh

as Zolf Kimblee

as Marta
Law
Dorochet

as Noah

as Dietlinde Eckhart

as Elysia Hughes

as Gracia Hughes
Lujon
Lydia
Rick
Leo
Paninya

as Ling Yao

as Ran Fan

as Alphonse Heidrich